System
The city of Chongqing (formerly known as Chungking) lies in the centre of China on the Yangtze River. In its urban area it has a population of 8 million, with approx. 12 million in its metropolitan area.
Line 1
Chongqing's first full subway runs from Chaotianmen (passenger port) at the east end of the central district to Shapingba in the west. The initial section was to be 16.4 km, but with limited service only starting between Jiaochangkou (L2) and Shapingba in July 2011.
28 July 2011: Jiaochangkou - Shapingba
27 Sept 2011: Jiaochangkou - Xiaoshizi
21 Dec 2012: Shapingba - Daxuecheng (20 km)
28 Sept 2014: + Shijingpo station
30 Dec 2014: Daxuecheng - Jiandingpo (1.9 km)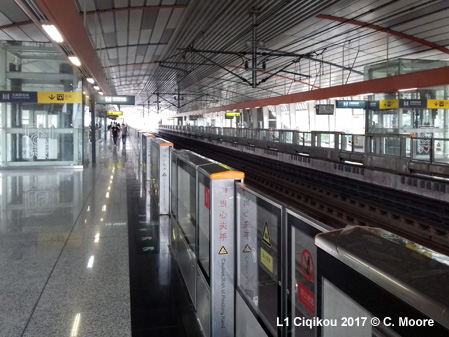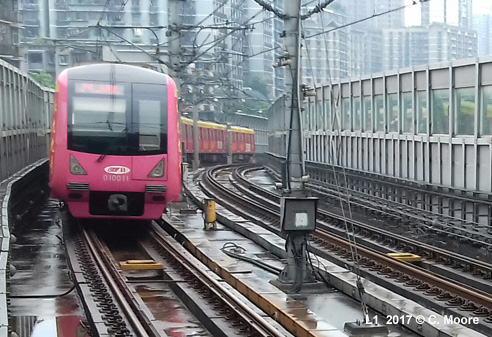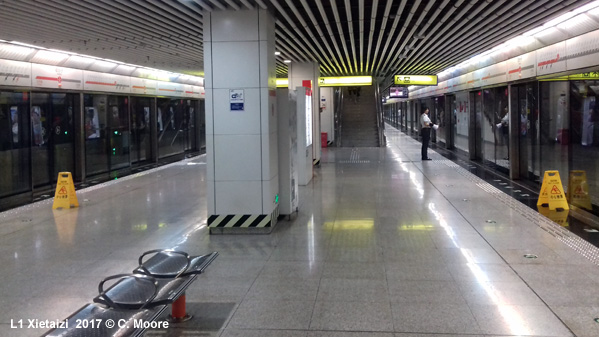 Line 2
The first Chongqing Monorail line - from Jiaochangkou to Dongwuyuan (13 stations, 13.5 km) - opened in June 2005 after construction had started at the end of 1999.
The mostly elevated line starts at Jiaochangkou in the central district and used to end at Xinshancun in the southwestern industrial area. The total length was 19.2 km with 18 stations. In 2014, the line was extended south to Yudong, where it connects to monorail line 3.
Monorail trains were built by Changchun Rail Company and Hitachi.
18 June 2005: Jiaochangkou - Dongwuyuan
01 July 2006: Dongwuyuan - Xinshancun
30 Dec 2014: Xinshancun - Yudong (17 km)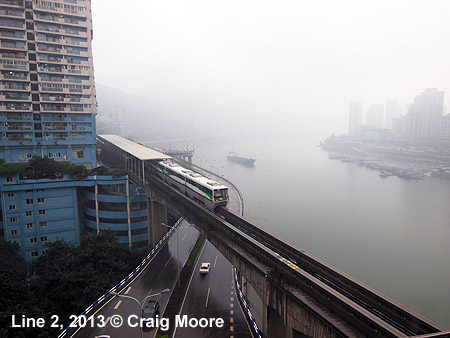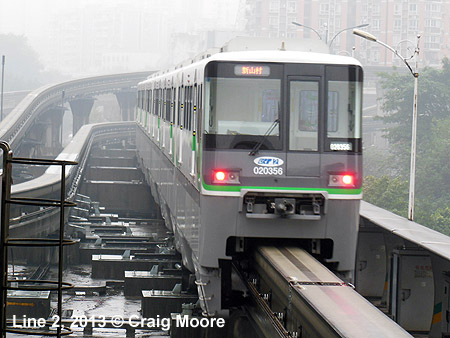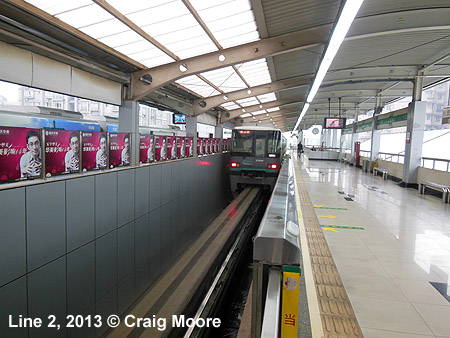 Line 3
Chongqing's second Monorail line runs north-south across the city centre linking Chongqing North Railway Station with the south bank of the Yangtze River. It uses combined road/rail bridges to cross the Yangtze (1.15 km) and Jialing Rivers (0.5 km).
29 Sept 2011: Lianglukou - Yuanyang (w/o Hongqihegou, Zhengjiayuanzi, Longtousi, Tongjiayuanzi) (17.5 km)
08 Oct 2011: Yuanyang - Changfulu
30 Dec 2011: Lianglukou - Ertang (w/o Gongmao, Tongyuanju)
30 Dec 2011: + Tongjiayuanzi station
30 Dec 2011: Changfulu - Jiangbei International Airport
01 Mar 2012: + Hongqihegou station
01 May 2012: + Zhengjiayuanzi station
28 Dec 2012: Ertang - Yudong (w/o Jinzhu, Huaxi, Chalukou)
28 Dec 2012: + Gongmao & Tongyuanju stations
31 Jan 2013: + Chalukou, Huaxi & Jinzhu stations
05 Feb 2013: + Longtousi station
28 Dec 2016: Bijin - Jurenba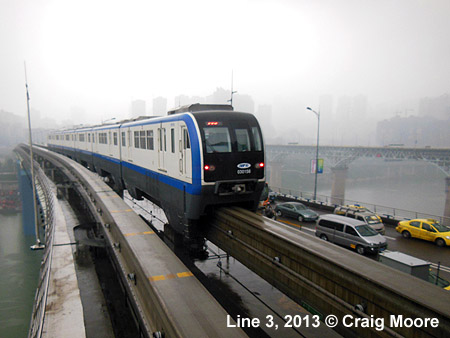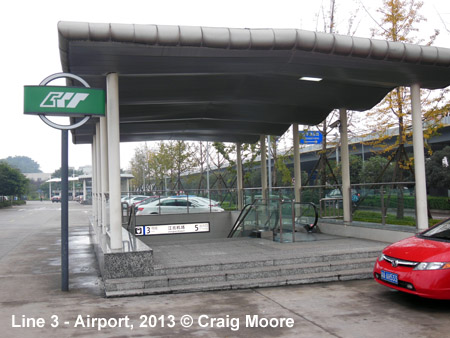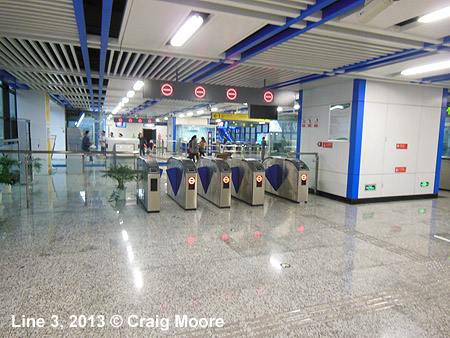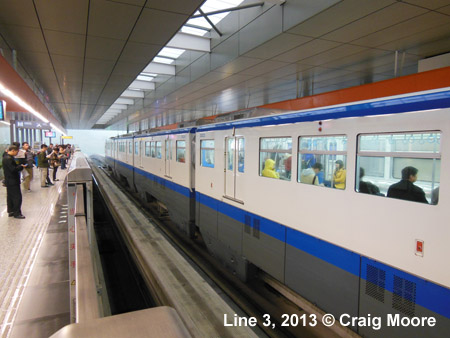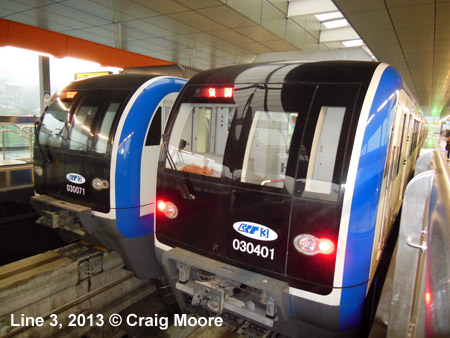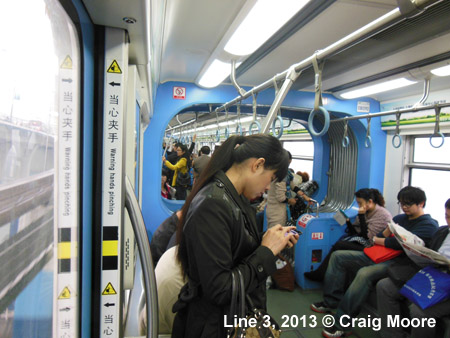 Line 5
North-south metro line:
28 Dec 2017: The Expo Garden Center - Dalongshan (17 km)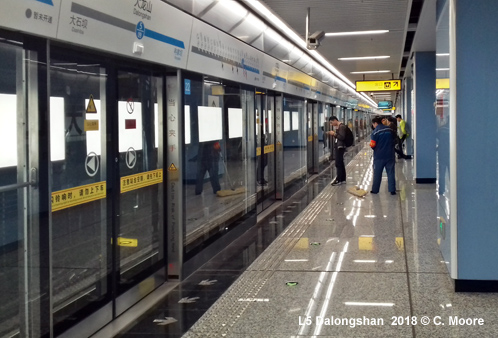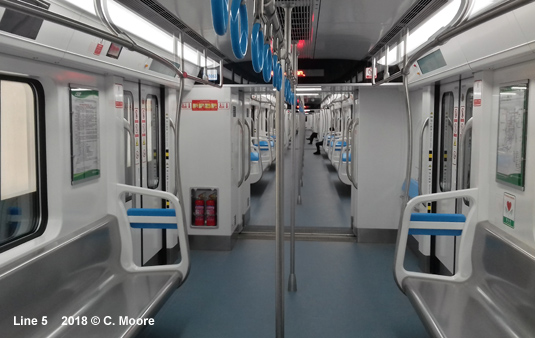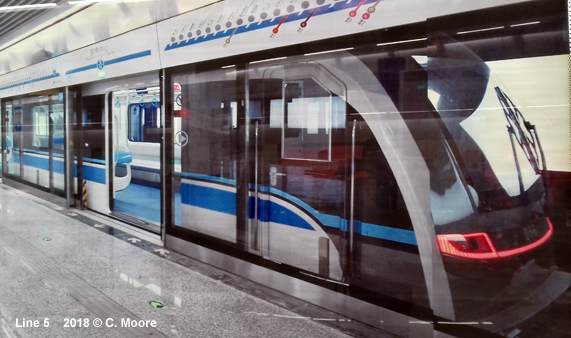 Line 6
Chongqing's second full metro line, started running on the north shore of the Jialing River in 2012.
28 Sept 2012: Kangzhuang - Wulidian
26 Dec 2012: Kangzhuang - Lijia
15 May 2013: Lijia - Yuelai
31 Dec 2013: Lijia - Beibei
28 Sept 2014: + Tiansheng and Jiuquhe stations
26 Nov 2014: + Xiangjiagang station
30 Dec 2014: Wulidian - Chayuan (18 km)
28 Feb 2015: + Pingchang and Huangmaoping stations
26 Oct 2015: + Gaoyikou and Caojiawan stations
28 Jan 2016: + Jiangbeicheng station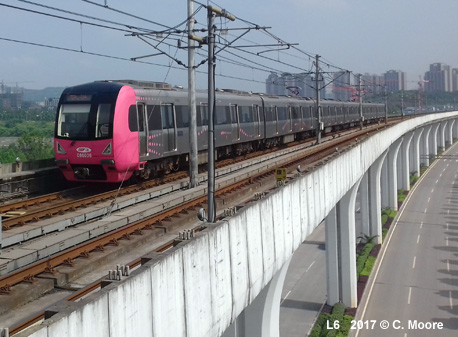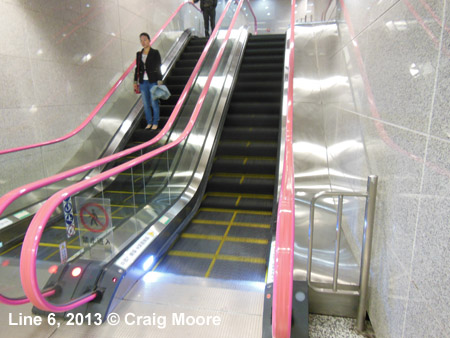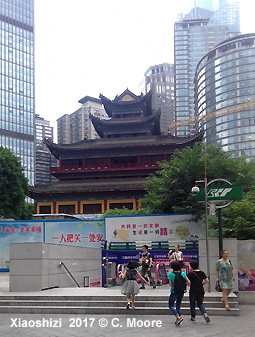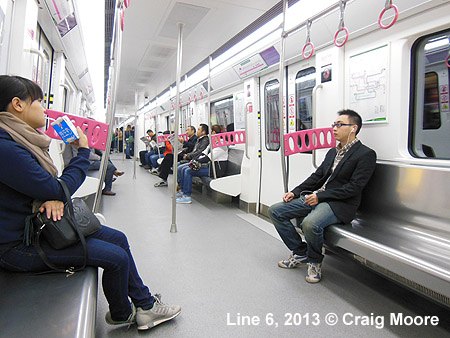 Line 10
North-south metro line, also known as "Airport Line":
28 Dec 2017: Wangjiazhuang - Liyuchi (34 km)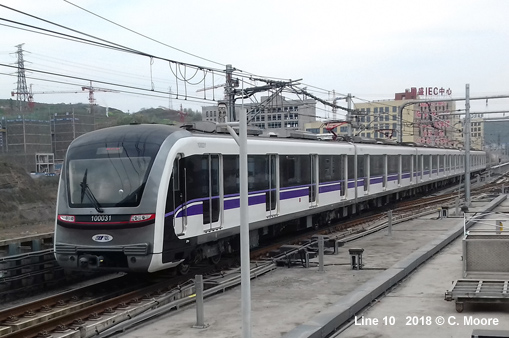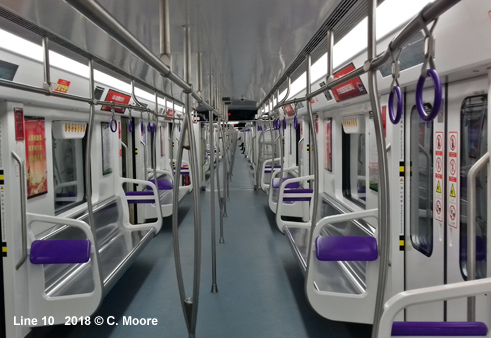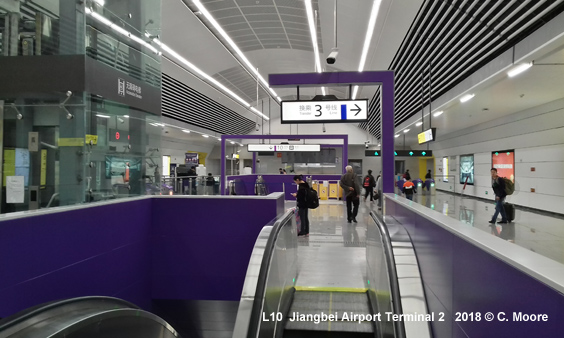 Projects
Urban Rail Line "4": Shiqiaopu - Changshengqiao
The line will run north-south from Shiqiaopu to Changshengqiao, a length of 19.3 km. Of this, 8.4 km will be underground (mainly in the stretch north of the Yangtze), and 10.9 km will be elevated track (including over the Ergongyan Bridge). There will be 14 stations. This line will use four-axle carriages, and the Ergongyan Bridge has been constructed with the track in mind. It will pass through two junctions (Shiqiaopu and Shigongli), and the three underground lines in the city will be connected to it to form a complete network. Construction scheduled after 2010.
Links
Chongqing Metro (Official website)
Chongqing Metro at Wikipedia
Chongqing Monorail Map at Johomaps
Report
Craig Moore reports in March 2018:
Chongqing s a large city, dominated by rapid, and often chaotic, urban development. The city has a stunning location, engulfed by mountains, valleys and gorges, with the city centre full of high-rise buildings, located on a tongue-shaped spit of land at the confluence of the mighty Jialing and Yangtze Rivers. It is this topography that makes the city and its Metro so interesting, necessitating different rail modes and bold infrastructure. The 6-line system is operated by Chongqing Rapid Transit (CRT) and offers 2 Monorail lines (built and operated to Metro standard) and 4 full Metro lines. It has 252.8km of revenue route, of which 138km is underground. Currently the CRT system is the 6th longest in China and 12th longest in the world.
Monorail Lines:
Given the topography of the area, most of the uniqueness and grandeur of the system comes from the two straddle beam monorail lines. Line 2 is the original urban rail line in the city and is 30.3km (2.4km underground) with 25 stations (3 underground), running from the centre at Jiaochangkou to Yudong in the south. Jiaochangkou has a long transfer to Line 1 and from here the route travels 1.3km underground before elevated running begins at Huanghuayuan. This stretch, on the southern bank of the Jialing, offers impressive views to the north and west. Niujiaotuo provides interchange to Line 3 and involves a pleasant walk along an open-sided corridor to the Line 3 platforms above - the views from both stations are wonderful. Further west is Liziba, a station famed for being built into an apartment block. Although the platform and entrance area of this station are not particularly interesting, the notion that you are stood on the 6th floor of a tall apartment block is, and again the views across the river to the north are mightily impressive. The line soon turns south with a 1.1km underground section at Daping (connection to Line 6) with this newer section of the line running above main roads, through dense residential and commercial areas. Some services terminate at Chongqing Zoo and from here the service becomes less busy as it heads to the terminus of Yudong, a huge two-island station with connection to Line 3.
Click here to read full report (PDF)!