In June 2016, Craig Moore reports from Nanchang:
Located on the wide Gan River, Nan-chang (South-Prosperous) is famous within China for its historic temples, and since 2015 has joined the Metro family. Currently only Line 1 operates but others are in construction. This line is powered by overhead supply and is 28.7km in length with 24 stations and is fully underground. It runs from the northwest of the city, under the Gan and along one of the main central east-west corridors to Yaohu Lake in the East of the urban area.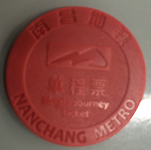 Street entrances are angular-type buildings seen in much of China with stairs to the ticket hall. The entrances are very prominent on main junctions and have tall thin totems be-topped by the smart red and white logo. The totems also have information on operating times (07.00-22.00). The station entrances are also representative of the norm in China, with the exception that bright red carpets with logo are located at the lobby entrances. Security machine, quite ugly ticket machines which dispense small tokens (2 to 5 Yuan fares), a large illuminated schematic map, ticket barriers and customer service office with an information rack housing metro information and maps are all present. The station halls are large and bright but lack any distinctive features. Escalators and stairs lead to the platforms. These are island platforms with full screens, a large illuminated schematic map with three future lines shown as dotted routes, and minimal seating provision. The platform screens have typical horizontal line map and television screens showing next two trains (7/8min headways during the day). Station names are located on pillars along the platforms and there is also a beautiful large calligraphic station name on the side of the stair wall. Smart and well-signed, the platforms are functional but far from inspiring.
The stock is produced by CNR and services are in 6-carriage formations. . These have white interiors with advertising but no map except the above-door strip map. Stainless steel side seating runs for 60% of the carriage, the remainder having resting bars for standing passengers. The carriages have a sizable capacity because of this. There is electronic and audio information in Mandarin and English.
There is little to comment on the Nanchang Metro. It is very typical of Chinese metros and somewhat disappointing in this regard as the systems opened since 2014/15 have, in the main, been quite stylish and have offered different features. This is a functional and well-used line, but is also instantly forgetable.