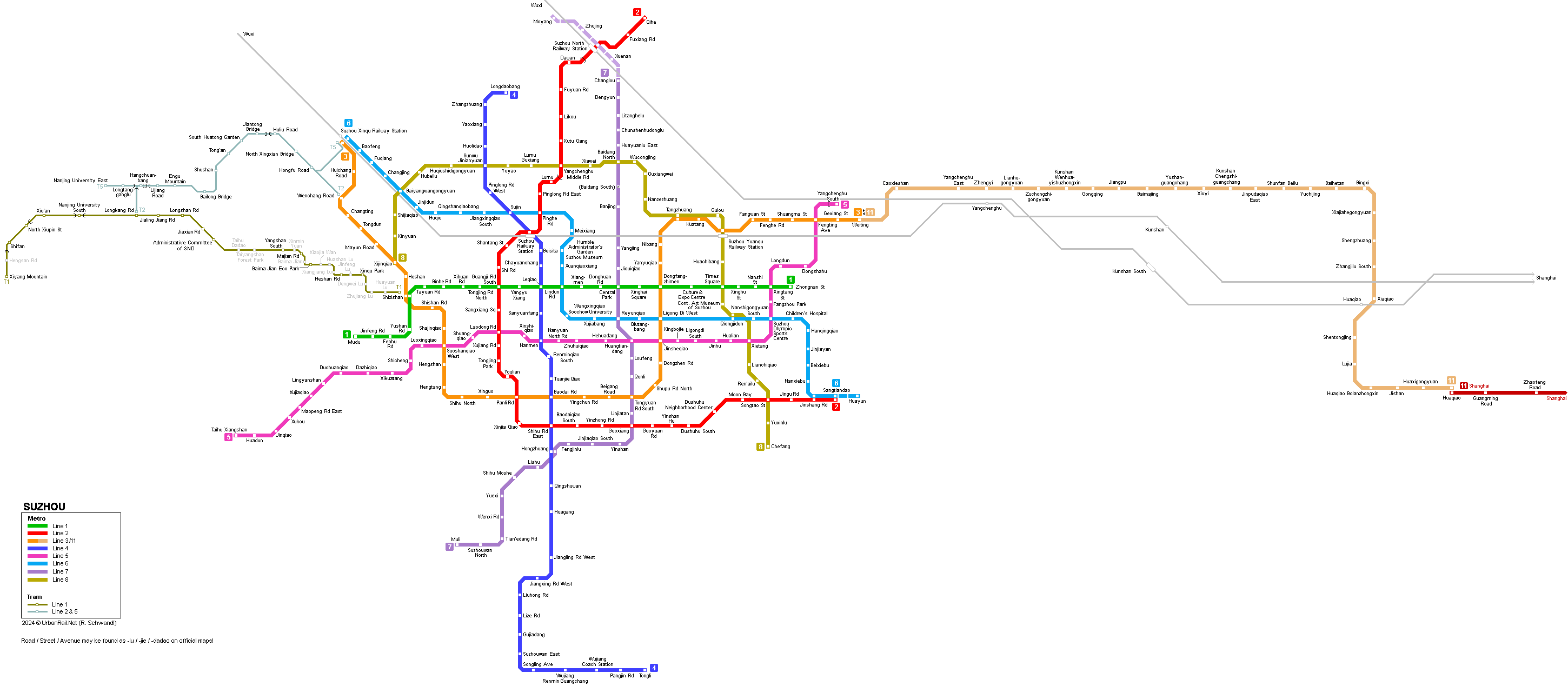 METRO
The Chinese city of Suzhou lies in the province of Jiangsu, some 80 km west of Shanghai. It has some 2.3 million inhabitants in the urban area, and 6 million in the larger metropolitan area.
The planned Suzhou metro network includes lines 1, 2, 3 (with a branch), and 4, with a total length of 141 kilometers with 107 stations, and comprising two north-south and two east-west lines. The construction is to be completed by 2020.
Line 1
25 km with 24 stations, east-west; after construction had started on 26 Dec 2006, the line was opened in April 2012.
28-04-2012: Mudu - Zhongnan Jie
Line 2
Starting from the Beijing-Shanghai High-Speed Railway Station and going southward to South Outer Ring Road in Wuzhong Economic Development Zone with a length of 27 km and 22 stations. After being extended in both directions in Sept. 2016, it has a total length of 40.4 km.
28-12-2013: Suzhou North Railway Station - Baodaiqiao South
24-09-2016: Suzhou North Railway Station - Qihe and Baodaiqiao South - Sangtian Dao
Line 4
52.8 km north-south line(38 stations) with two branches at southern end. The Muli branch will become part of Line 7 in the future.
15-04-2017: Longdaobang - Tongli (42 km) + branch Hongzhuang - Muli (10.8 km)
TRAM
SND (Suzhou New District) Tram Line 1: Suzhou Amusement Land - Long'an Lu
- opened 26 Oct 2014
- 18.1 km, in southwestern Gaoxin district
- Rolling stock: 18 100% low-floor bidirectional trams manufactured by CSR Nanjing Puzhen Rolling Stock Co., based on Bombardierís Flexity 2; 32.2 m long and 2.65 m wide
2008 © Robert Schwandl (UrbanRail.Net)