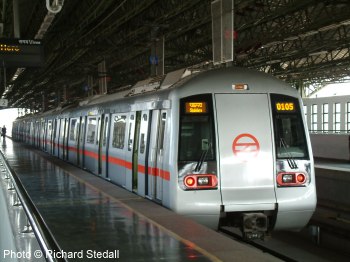 As of March 2018, the Delhi Metro system comprises 8 lines:

The Red Line (initially line 1) extended its total length to 24.4 km (21 stations) with the eastern extension to Dilshad Garden on 4 June 2008. The new section runs on a viaduct, parallel to the mainline tracks.

The previous extension brought the line length to 21.3 km (18 stations) on 31 March 2004 with the inauguration of the Inder Lok - Rithala section. The entire section is elevated and runs on a viaduct constructed mostly on road medians.  

The first two sections of the Red Line were opened on 25 December 2002 (Shahdara to Tis Hazari - 8.3km, 6 stations) and 3 October 2003 (Tis Hazari to Inder Lok - 4.1km, 4 stations) respectively. After two extensions, the line is now 25 km long.

The

Yellow Line (line 2) which was opened in two stages between Vishwa Vidyalaya (Delhi University, North Campus) and Central Secretariat, used to be underground for its entire 11 km length. The route passes through the city centre, or the central business district at Connaught Place. The stations along the route were built by cut-and-cover technique except at Chawri Bazar where tunneling was used. Metro stations are located 12.85 m below ground level except at the highly congested Chawri Bazar station which is located at 20 m below ground. In February 2009,

the

Yellow Line was extended north to Jahangirpuri, including the first four elevated stations on this line. The total length of the Jahangirpuri - Central Secretariat is 17.4 km. In June 2010, the first 14.5 km part of a southern extension was brought into service, taking the Metro across the city border into Gurgaon. With the 12.5 km missing section opened in September 2010, line 2 is now 45 km long.

The

Blue Line (lines 3 & 4) runs mostly elevated or at grade with a short underground section in central New Delhi. It is currently (07/2011) about 60 km long.

The

Blue Line intersects with

the

Yellow Line at Connaught Place, but does not provide interchange with Line 1.

The Green Line (line 5) is the first standard-gauge metro line in Delhi; it is 29.6 km long (Inderlok to Mundka) and completely elevated.

The mostly elevated Violet Line (line 6) opened in various stages from 2010, followed by the Magenta Line (line 8) in 2017 and the Pink Line (line 7) in 2018.

The 22.5 km Airport Express Line (Orange Line) opened in February 2011 after some delays and connects Indira Gandhi International Airport to New Delhi railway station.