METRO

Tehran, the capital of Iran, started construction of a metro system already during the reign of the Shah, but due to financing problems the first mass transit line could not open until March 1999. This was the suburban line (shown on maps as Line 5) which links Tehran to the satellite town of Mehrshahr, some 40 km west of Tehran. Meanwhile construction of the first two metro lines also had advanced and the first stretch of Line 2, which links the Tehran terminus of the Mehrshahr Line to the city centre at Imam Khomeini, started regular service in February 2000. Since then, the network has been gradually expanded and now includes four urban and one suburban lines.
Line 1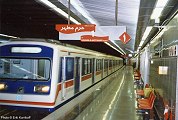 At Imam-Khomeini-Square, the east-west Line 2 intersects with Line 1, which runs north-south. A first 10 km section opened in August 2001. The second stage from Darvazeh Dowlat to Mirdamad (7 km, 8 stations) opened in March 2002 and another 5 km stretch was added in Oct 2002. This line was then extended towards the south to Imam's Holy Shrine, with intermediate stations opening in stages.
28-08-2001: Ali Abad - Darvazeh Dowlat (10 km)
18-03-2002: Darvazeh Dowlat - Mirdamad (7 km)
23-10-2002: Ali Abad - Shahr-e-Rey (5 km)
xx-03-2003: Shahr-e-Rey - Haram-e-Motahar (Imam's Holy Shrine) (except intermediate stations)
31-05-2009: Mirdamad - Gholhak
31-01-2010: Gholhak - Gheitarieh (excluding intermediate station)
31-07-2010: Shahid Sadr station
21-07-2011: Haram-e-Motahar - Kahrizak
19-02-2012: Gheitarieh - Tajrish
18-04-2016: Shahed - Shahr-e Aftab (5.5 km)

Line 2
At present, Line 2 is 22 km long and has 22 stations. Eleven 7-car trains (137 m long) serve the line at a 2-minute headway, with 3rd-rail power supply (750V).
21-02-2000: Tehran (Sadeghieh) - Imam Khomeini (9 stations - 9.3 km)
17-03-2004: Imam Khomeini - Baharestan (1.6 km, 2 stations)
17-03-2006: Baharestan - Elm-o-Sanat University (not all intermediate stations, only Shahid Madani and Sarsabz)
01-07-2006: Darvazeh Shemiran and Sabalan stations
15-02-2009: Elm-o-Sanat University - Tehran Pars
10-06-2010: Tehran Pars - Farhangsara
Line 3
Line 3 runs 37 km from the southwest to the northeast. Construction started in mid-2007, the first section has been operational since Dec 2012. In September 2015 it reached Ghaem, with several intermediate stations being completed at a later date.
16-12-2012: Vali-e Asr* - Shahid Beheshti (7 km, without intermediate stations)
22-04-2014: Vali-e Asr* - Azadegan (with intermediate stations Moniriyeh, Rahahan, Javadiyeh & Ghal'e Morghi)
02-03-2015: Meydan-e Vali-e Asr + Shahrak-e Shariati stations
17-05-2015: Shahid Doctor Fatemi station
30-06-2015: Abdoladab station
22-09-2015: Shahid Beheshti - Ghaem (with only Zeyn-o-ddin and Nobonyad opening as intermediate stations)
09-11-2015: Ne'mat Abad station
10-02-2016: Mirzaye Shirazi station
06-06-2016: Khajeh Abdollah-e Ansari station
08-08-2016: Sohrevardi station
14-09-2016: Shahid Ghoddoosi station
07-11-2016: Shahid Sayyad-e Shirazi station
12-12-2016: Hossein Abad station
04-02-2017: Heravi station
*Vali-e Asr > (2016) Teatr-e Shahr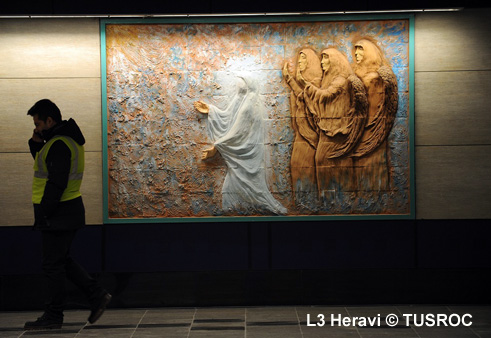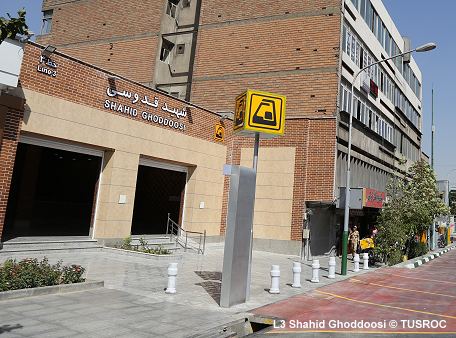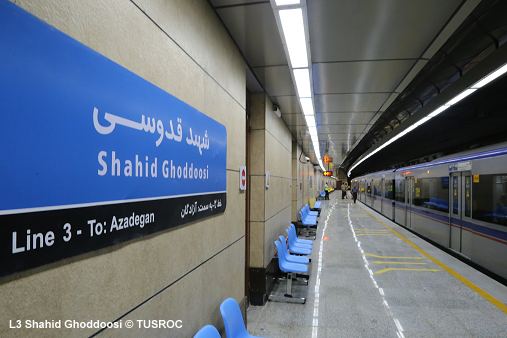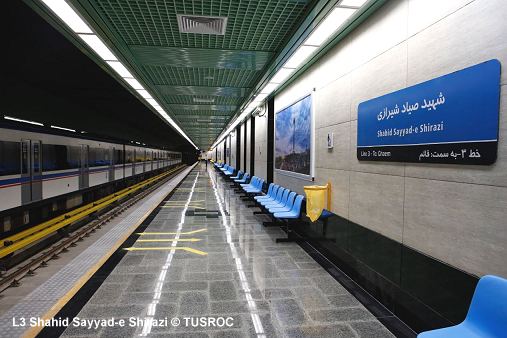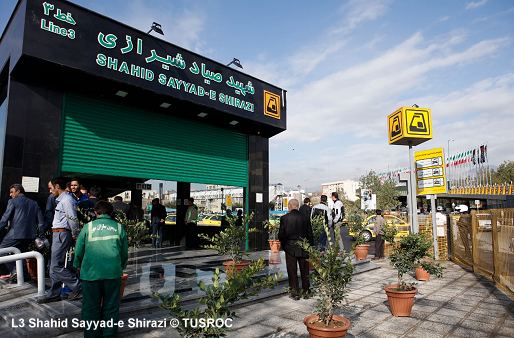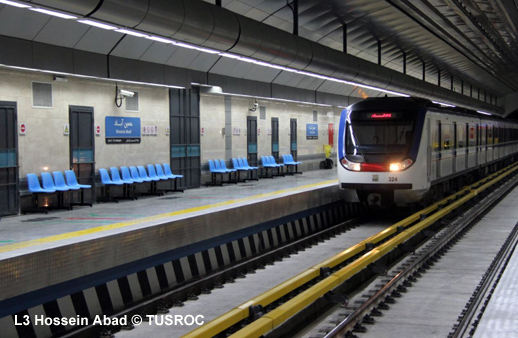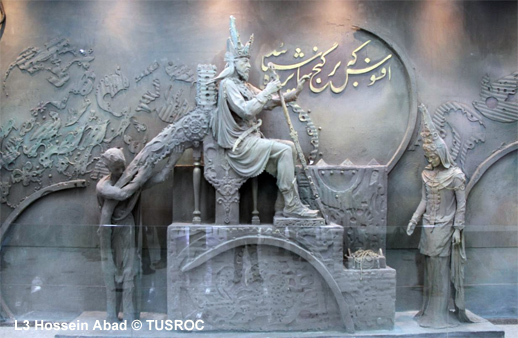 Line 4
22 km; east-west line, first section opened in 2008. Airport branch operated separately with 3-car trains.
19-04-2008: Ferdowsi - Darvazeh Shemiran (2.5 km)
16-03-2009: Darvazeh Shemiran - Shohada Square
31-05-2009: Ferdowsi - Enghelab Square (excluding intermediate station)
11-10-2010: Shohada Square - Shahid Kolahdooz (5.5 km) (without intermediate stations)
11-12-2010: Vali-e-Asr* and Nabard stations
07-02-2011: Enghelab Square - Meydan-e Azadi (with only Towhid station in between)
09-05-2011: Doctor Habib-o-Ilah station
27-08-2011: Sheykh-o-raeis station
05-11-2011: Ostad Moein station
09-01-2012: Piroozi station
16-06-2012: Niroo Havaei station
23-07-2012: Meydan-e Azadi - Ekbatan (without Bimeh)
15-03-2016: Bimeh station + Mehr Abad Airport branch (2 km)
*Vali-e Asr > (2016) Teatr-e Shahr

Line 5
The Tehran-Karaj-Mehrshahr Express Line is a 41 km commuter surface line, which uses 6 double-deck 8-car-trains (248 m), locomotive-drawn with catenary (25KV), 10-minutes headway, 11 stations.
07-03-1999: Tehran - Karaj (3 stations - 31.5 km)
14-03-2005: Iran Khodro station
15-03-2005: Karaj - Golshahr (9 km)
01-06-2005: Chitgar station
13-11-2006: Atmosfer station
18-09-2007: Ekbatan station added
10-10-2010: Mohammad Shahr (now Mahdasht) station
18-02-2017: Garmdarreh station

Photos
Projects
When finished, Line 1 will be 28.1 km long (14.1 km underground). In the south Line 1 may be extended to Imam Khomeini Airport (with a possible suburban link to Vavan).
Line 2 may later be extended further east to connect with a suburban line to Damavand and Pardis.
Four more lines are on the drawing board (see map):
Line 6 - from Bokharaei in the southeast to Sadeghieh in the northwest
Line 7 - from Yousef Abad in the north to Takhti Stadium in the southeast
Line 8 and Line 9 would form kind of a circle around the outer suburbs
Links
Tehran Metro (official page)
Tehran Metro Story (doc, 15MB, from official site)
Non-offical Iran Railways Page (includes some subway info)