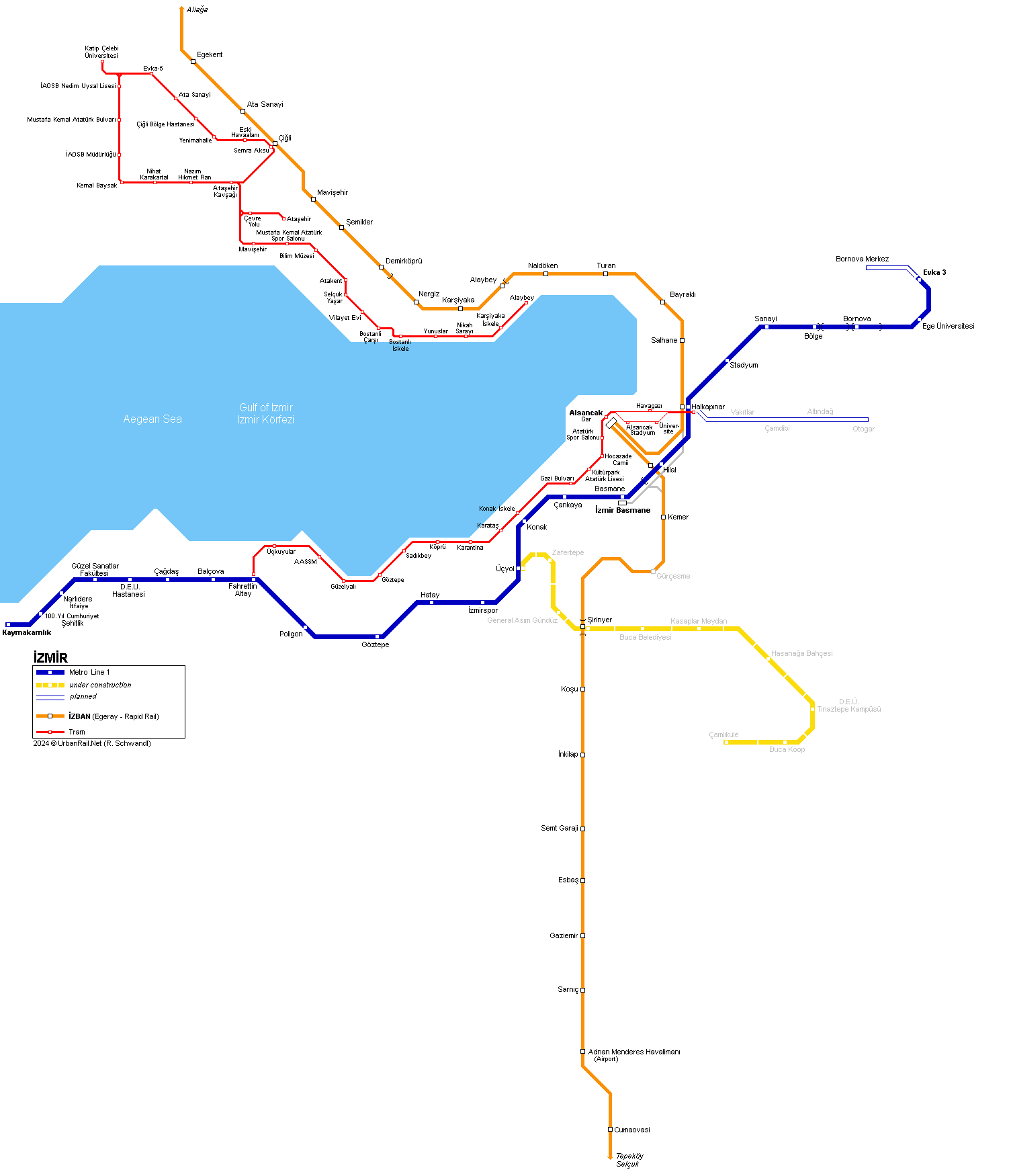 METRO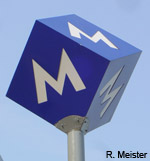 Izmir is Turkey's third largest city (1.8 million inh.) and lies in the west of the country. It is an important harbour on the Gulf of Izmir, an arm of the Aegean Sea (Mediterranean Sea).
The first metro line is 16 km long and has 14 stations. It opened for trial service on 22 May 2000, regular passenger service started on 25 August 2000. The line runs underground through the city centre for 4.4 km (Üçyol - Basmane), elevated for 2.3 km (Hilal - Halkapinar) and at grade or in a cutting for 4.8 km (Stadyum - Bornova), before returning underground for the 2.3 km section opened in 2012. Platforms are 125 m long, although initially only 3-car-trains (750 V DC) are used. At Halkapinar transfer is possible to Turkish State Railways.
The metro was built as a turnkey project by a consortium led by Adtranz and is operated by Izmir Metro A.S.
History
25 Aug 2000: Üçyol - Bornova (11.9 km)
30 Mar 2012: Bornova - Evka 3 (2.3 km)
29 Dec 2012: Üçyol - Hatay (1.7 km)
25 Mar 2014: Hatay - Göztepe (1.0 km)
Photos
Projects
- western extension under construction: Göztepe - Fahrettin Altay in Üçkuyular neighbourhood to open spring 2014

- planned extensions:
Üçyol - Dokuz Eylul University (11 km)
Halkapinar - Otogar (4.5 km)
Fahrettin Altay - D.E.U. Hastanesi (3 km)
Photos
IZBAN
- Existing suburban lines (Banliyö) have been upgraded to provide an efficient suburban service operated with new CAF rolling stock:
1) Northern Line: Alsancak - Aliaga, 57 km, 3.3 km underground at Karsiyaka
opened 5 Dec 2010 from Alsancak to Cigli and to Aliaga on 31 Jan 2011
2) Southern Line: Alsancak - Cumaovasi, 22 km, 1.7 km underground at Buca-Sirinyer, opened Aug. 2010, serving Menderes Airport
Links
Izmir Metro (Official Site)
ESHOT - Izmir Transport Operator
IZBAN (Egeray) - Suburban Rail
City Hall Server (Metro Slide Show)
Izmir Metro at Wikipedia

Photos and info thanks to Serkan Avci!
2007 © Robert Schwandl (UrbanRail.Net)