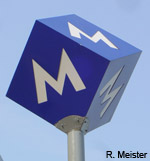 Izmir is Turkey's third largest city (4 million inh.) and lies in the west of the country. It is an important harbour on the Gulf of Izmir, an arm of the Aegean Sea (Mediterranean Sea).
Izmir's first metro line is 20 km long and has 17 stations (2014).
It opened for trial service on 22 May 2000, regular passenger service started on 25 August 2000. The line runs underground along the western portion and through the city centre for 9.9 km (Üçyol - Fahrettin Altay), elevated for 2.3 km (Hilal - Halkapinar) and at grade or in a cutting for 4.8 km (Stadyum - Bornova), before returning underground for the 2.3 km section opened in 2012. In 2014, the metro line reached the Üçkuyular neighbourhood in two stages.
Platforms are 125 m long, although initially only 3-car-trains (750 V DC) are used. At Halkapinar and Hilal transfer is possible to the suburban railway Izban.
The metro was originally built as a turnkey project by a consortium led by Adtranz and is operated by Izmir Metro A.S.