Spaziergang durch den Tunnel zum Brandenburger Tor
Walk through the tunnel towards Brandenburg Gate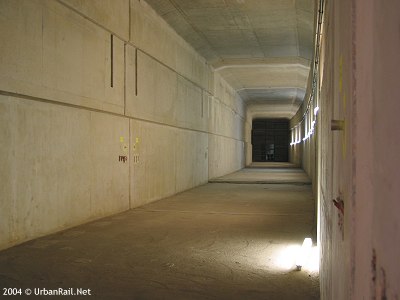 Die U55 wird nur den nördlichen Tunnel benutzen, der für die Züge Richtung Westen vorgesehen ist.
U55 will only use the northern tunnel built for westbound trains.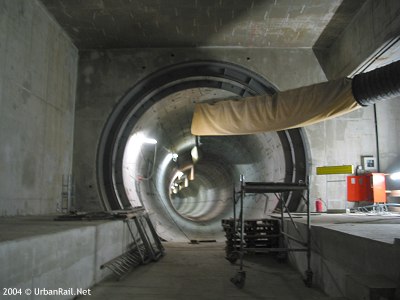 Nach einem ca. 50m langen Abschnitt, der in offener Bauweise errichtet wurde, kommt man in den Raum, wo die Tunnelbaumaschine montiert wurde.
After some 50m we arrive in a hall previously used to put together the tunnel boring machine (TBM).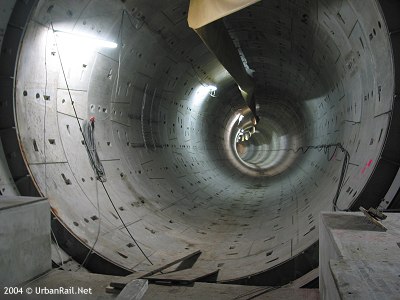 Beginn der im Schildvortrieb gebauten Strecke, Blick nach Süden Richtung Brandenburger Tor.
Beginning of the bored section, looking south towards Brandenburg Gate.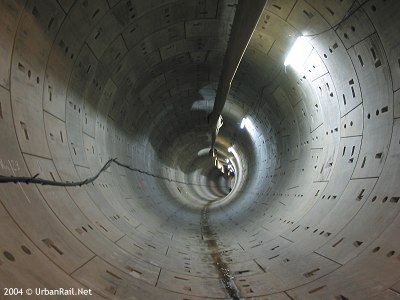 Ungefähr unter dem Brandenburger Tor.
Approximately underneath the Brandenburg Gate.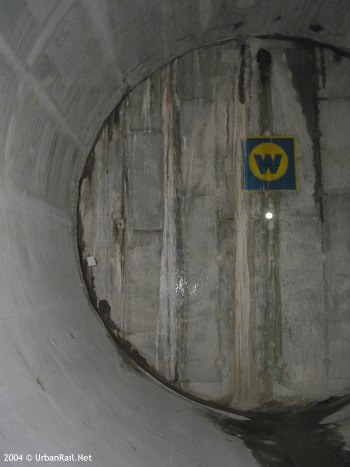 Ende des Tunnels am Pariser Platz, östlich des Brandenburger Tors, etwa vor der französischen Botschaft.
End of tunnel at Pariser Platz, east of Brandenburg Gate.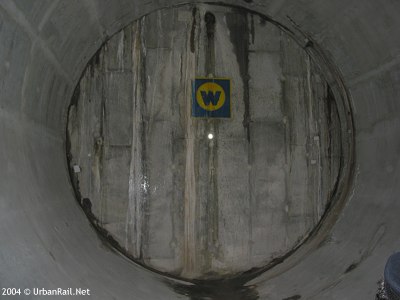 Das Tunnelstück vor der Abschlussmauer ist nicht mit Tübbings ausgekleidet, weil hier der Metallring des Schilds eingemauert wurde.
The tunnel section just before the wall is not lined with tubbings, as the metal ring of the TBM was left inside the tunnel.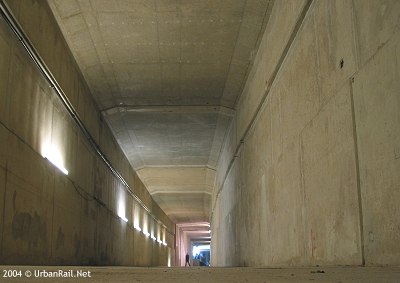 Wieder auf dem Rückweg zum U-Bahnhof Reichstag.
On our way back to Reichstag station.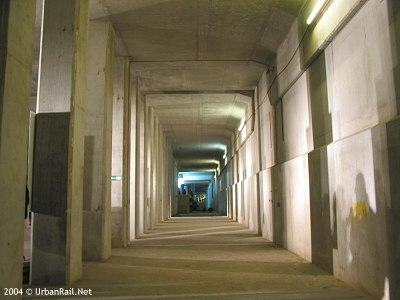 Wieder auf dem Rückweg kurz vor dem U-Bahnhof Reichstag.
On our way back just before Reichstag station.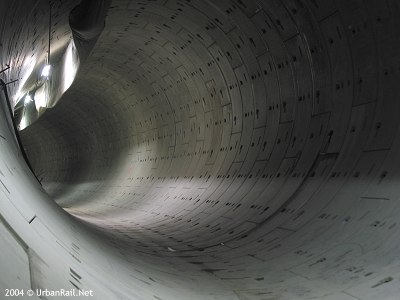 Ein kurzer Blick in den zweiten, südlichen Tunnel, durch den langfristig die U5 Richtung Hönow fahren wird.
A quick look into the second, southern tunnel, which will be used by U5 trains heading for Hönow in the long run.
Spaziergang durch den Tunnel Richtung Hauptbahnhof
Walk through the tunnel towards the Central Station
---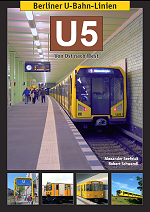 Alexander Seefeldt & Robert Schwandl: Berliner U-Bahn-Linien - U5 Von Ost nach West. - April 2010, ISBN 978 3 836573 29 9 More info
---
Robert Schwandl: BERLIN U-BAHN ALBUM. - Alle 192 Untergrund- und Hochbahnhöfe in Farbe. All 192 Underground and Elevated Stations in Colour.
- 144 S., 240 Farbfotos, Netzplan, deutsch/englisch; Juli 2002, Berlin, ISBN 3-936573-01-8 Mehr Info