Lille is synonymous for a new generation of metro systems, a kind of small profile light railway operated automatically, the so-called VAL system (short for Véhicule automatique léger). After trials were carried out by MATRA during the early 1970's, the CUDL decided in 1974 to build 4 VAL lines in the metropolitan area. Construction started in 1978 and the first line was inaugurated on 25 April 1983 between 4 Cantons and République. One year later, on 2 May 1984 the entire Line 1 opened (13.5 km long, 8.5 km underground). It links C.H.R. B Calmette in Lille to 4 Cantons in Villeneuve d'Ascq via Gare Lille Flandres (Central Station). All stations have platform edge doors to separate the platform from the train.
Line 2 opened on 3 April 1989, initially called Ligne 1bis, between St. Philibert and Gares, later renamed Gare Lille Flandres (15.5 km, 7 km underground). In 1994, there was a 1-station extension to the new TGV station Gare Lille Europe, and in 1995 the line reached Fort de Mons. On 18 Aug. 1999, Line 2 was extended to Tourcoing-Centre (12.5 km - 16 stations) and it reached C.H. Dron near the Belgian border on 27 Oct. 2000 (3.6 km). The entire Line 2 is now 32 km long with 43 stations.
Trains are only 2 m wide and 26 m long (two coupled cars) and run on rubber tyres. Possible minimum headway is 60 seconds. Platforms on Line 1 are only 26 m long (although most stations are prepared to be extended to 52 m), but on Line 2 they were built 52 m long, long enough for two units. Stations are fully accessible for the disabled.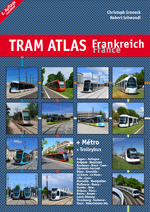 The Lille-Roubaix-Tourcoing tram, also called Mongy (name of its creator), mainly runs along 3 large avenues, which opened the same year (1909), it runs separate from other road traffic. The current trains are made of 4 cars, they were designed by Pininfarina and built by Breda. The tram runs underground at Gare Lille-Flandres, Gare Lille-Europe, St Maur and Clemenceau-Hippodrome stations.
- network length: 18.6 km, 36 stops
- 1000 mm gauge
- 2 lines
25 April 1983 - 4 Cantons - République
02 May 1984 - République - C.H.R. B Calmette
03 April 1989 - St. Philibert - Gare Lille Flandres
05 May 1994 - Gare Lille Flandres - Gare Lille Europe
17 Mar 1995 - Gare Lille Europe - Fort de Mons
18 Aug 1999 - Fort de Mons - Tourcoing-Centre
27 Oct 2000 - Tourcoing-Centre - C.H. Dron
Possible extensions - Line 1 from C.H.R. B Calmette to Wattignies, Line 2 from St. Philibert to Perenchies and from C.H. Dron to Mouscron in Belgium, with possible branches from Roubaix to Hem and Wattrelos.
Platforms on Line 1 are being lengthened to 52 m by 2017.
Christoph Groneck: METROS IN FRANKREICH / METROS IN FRANCE. Paris, Lyon, Marseille, Lille, Toulouse, Rennes, Rouen & Laon. - Aug. 2006, Robert Schwandl Verlag, ISBN 3 936573 13 1 (More info)

Bernard Felix: Le VAL 273 pages (1993) Maxima ; ISBN : 2840010488
1983-1988: six ans de Métro dans la Communauté urbaine de Lille: la ligne nr. 1 . - 83 pages (6 mai 1993) Centre d'études des transports urbains ; ISBN : 2110855207
Christoph Groneck: Neue Straßenbahnen in Frankreich. - 2003, 167p., Ek-Verlag, ISBN 388255844X