Algiers (al Jaza'ir or al Djazair; French Alger), the capital of Algeria, has some 3.5 million inhabitants. Algiers is an important seaport on the Mediterranean Sea, 425 km from Valencia or 750 km from Marseille.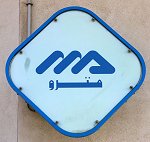 The construcion of the Algiers Metro was first launched in 1980, but suffered many delays and temporary suspensions. In 2006, it was relaunched with construction awarded to the Siemens-led consortium that includes Construcciones y Auxiliar de Ferrocarriles S.A. (CAF) and Vinci Construction. As consortium leader Siemens Transportation Systems France was responsible for the overall project management, the control and signaling systems, telecommunications, power supply, ticketing, tracks and control center equipment. The Spanish company CAF supplied the 14 metro trains, each of which consists of six cars. The French company Vinci Construction Grand Projets built the metro stations, installed the tunnel ventilation and erected the administration building and depot. The first section of the metro line in Algiers runs mainly underground, was 9.5 km long and had ten stations. The depot is located south of Haï El Badr station. After some weeks of trial operation without passengers since 8 Sept 2011, Line 1 finally began regular service on 1 November 2011. It is operated by Metro El Djazaïr.
In 2018, the total length is 18.8 km.
31 Oct 2011: Official inauguration
01 Nov 2011: Start of regular revenue service Tafourah (Grande Poste) - Haï El Badr (9.5 km)
05 July 2015: Haï El Badr - El Harrach Centre (4 km)
10 April 2018: Tafourah (Grande Poste) - Place des Martyrs (1.7 km) and Haï El Badr - Ain Naâdja (3.6 km), both without intermediate stations
07 Sept 2018: Station des Ateliers added
14 Nov 2018: Ali Boumendjel and Gué de Constantine stations opened