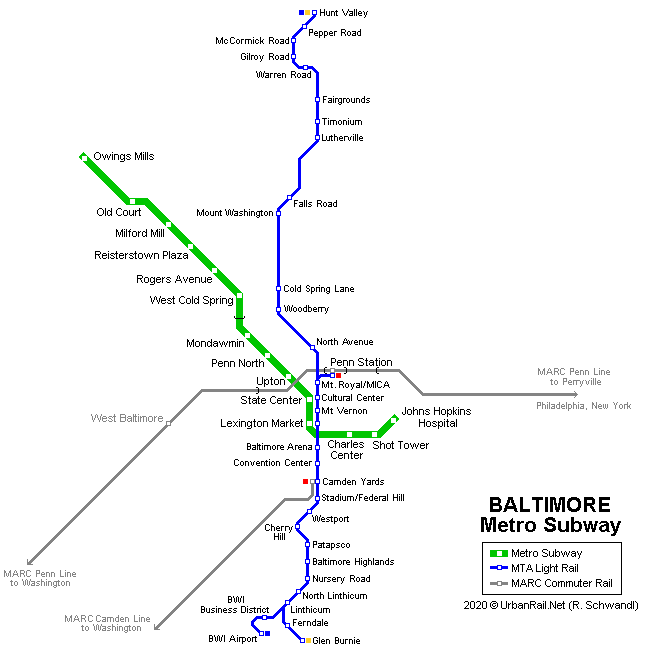 System

Baltimore has approximately 650,000 inhabitants (2.5 million in the metropolitan area) and lies between Washington and Philadelphia. Baltimore has only a single metro line, plus a north-south light rail line with two short branches.

Metro Subway

In 1972 Maryland approved the construction of a mass transit system with a total length of 45 km. Four years later, in 1976, MTA (Mass Transit Administration) began construction of a first 12.2 km segment, which was inaugurated in 1983 (Charles Center - Reisterstown). A second 9.8 km section was put into service in 1987 to Owings Mills with only two intermediate stations. Eventually in 1995, the 2.5 km stretch from Charles Center to Johns Hopkins Hospital opened for revenue service. The Baltimore Metro Subway has a total length of 24.8 km (10 km underground, 3.5 elevated, rest ground level) with 14 stations. Underground stations lie 16 - 34 m below street level. Platform length is 137 m for 6-car-trains. All stations are wheel-chair accessible. At Reisterstown Plaza and Owings Mills large park&ride facilities were built. Metro cars are air-conditioned and were ordered together with Miami's metro rail cars to save costs. Power supply is via third rail (700 V dc).

21 Nov 1983: Charles Center - Reisterstown Plaza
20 July 1987: Reisterstown Plaza- Owings Mills
01 June 1995: Charles Center - Johns Hopkins Hospital

Light Rail

Baltimore's Light Rail system consists of a major trunk route plus with a train every 10 minutes, which splits into two short branches at its southern end, plus a shuttle service between the city's two railway stations (Penn Station and Camden Yards station). The system operates with high-floor vehicles, and therefore all stops are equipped with a short high-level platform to allow wheel-chair access at the front door of the train. The northern and southern sections of the trunk route were built using former railway corridors, and the central section lies on-street along Howard Street.

03 Apr 1992: Timonium (now Fairgrounds) - Camden Yards (xx km)
30 Aug 1992: Camden Yards - Patapsco
02 Apr 1993: Patapsco - Linthicum
20 June 1993: Linthicum - Cromwell Station/Glen Burnie (now Glen Burnie)
09 Sept 1997: Timonium - Hunt Valley (7.2 km)
06 Dec 1997: University of Baltimore (now Mt Royal) - Penn Station (branch) (0.6 km)
06 Dec 1997: Linthicum - BWI Airport (branch) (4.3 km)

Projects

The Red Line was supposed to be an east-west light-rail line with a long underground section in the central area. The project was shelved in June 2015.

Links

MTA Metro Subway & Light Rail (Official Page)

Scott M. Kozel's article about the Baltimore Metro Subway

Baltimore Metro Subway at Wikipedia

Baltimore Transit at nycsubway.org

SUBWAYS & LIGHT RAIL
in the U.S.A.
Vol.1 - East Coast

Click here for more info!
2007 © Robert Schwandl (UrbanRail.Net)