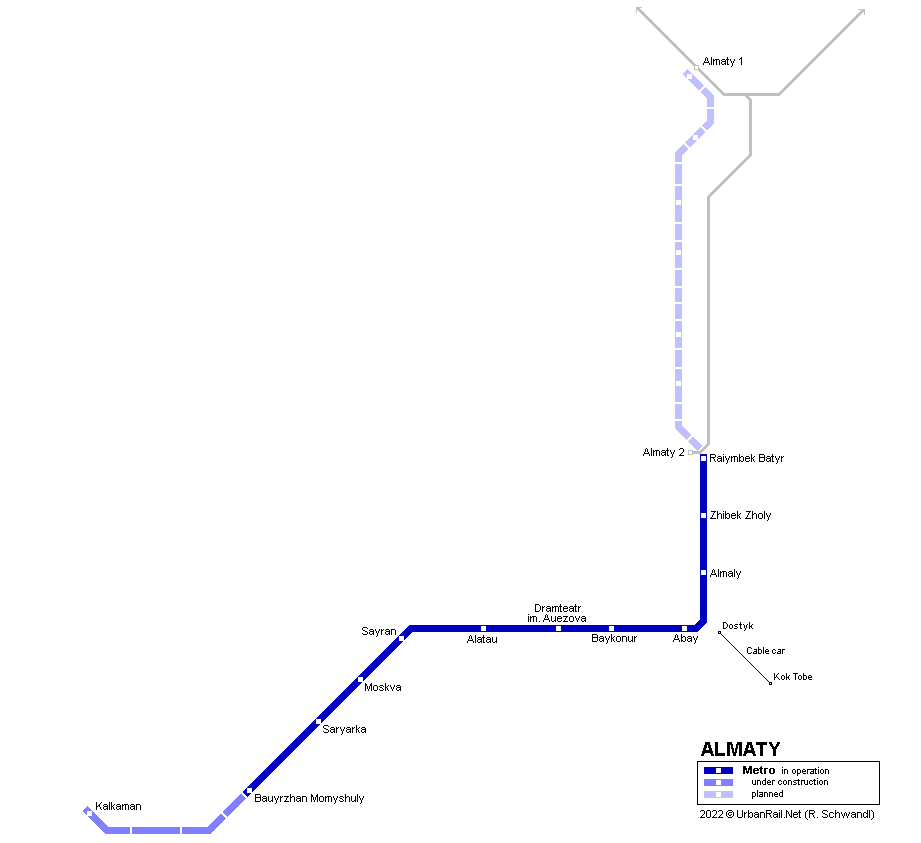 ALMATY
Almaty (Alma Ata) has about 1.4 million inhabitants and used to be the capital of Kazakhstan before the government moved to Astana in 1997.
---
Construction of the first metro line began in 1988, but was suspended after the dissolution of the former Soviet Union.
The section of line 1 finally opened in 2011 was 7.6 km and included 7 stations. The eastern part of the line runs north-south below Ul. Furmanova, and then turns west along Prospekt Abaya. Four out of seven stations are deep-level. In 2022, the metro line has reached a total length of 13.4 km.
The line is operated with seven 4-car trains, produced by Hyundai Rotem of South Korea.
History
01 Dec 2011: Raiymbek Batyr - Alatau (7.6 km)
18 Apr 2015: Alatau - Moskva (2.7 km)
30 May 2022: Moskva - Bauyrzhan Momyshuly (3.1 km)
Projects
1) Western extension consisting of 3 stations, Saryarka, Dostyk (eventually Bauyrzhan Momyshuly) and Kalkaman, to connect the centre of Almaty to the suburb of Kalkaman (8.62 km) has partly been completed, with the last station pending.
2) Northern extension
3) A second line to intersect with the first line at Alatau and Zhibek Zholy
Photos
Raiymbek Batyr:
Zhibek Zholy:
Almaly:
Abay:
Baykonur:
Dramteatr im. Auezova:
Alatau:
Sayran:
Moskva:
Saryarka: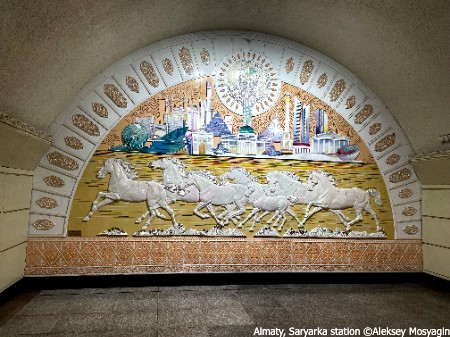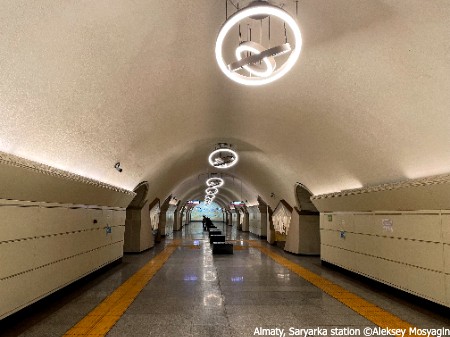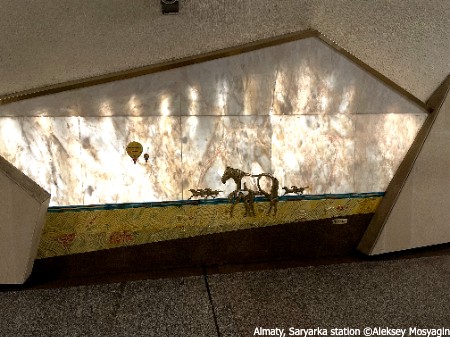 Bauyrzhan Momyshuly:
Photos © Maxim Golbrayht (except where indicated)
Links
Almaty Metro (Official Site)
Almaty Metro (Official Site 2)
Almaty Metro at Wikipedia (then click Russian version for more details)
Article in Kontinent (Svet v konce tunnelya)
Almaty Metro Track Map by Vladislav Prudnikov
2007 © Robert Schwandl (UrbanRail.Net)