Total length: 12.5 km (underground) - 18 stations
Large-profile line with ~100 m long platforms (6-car trains of F and H stock).
Line U9 operates every 5 minutes during off-peak daytime service, and every 4 minutes during peak hours.
Line U9 was opened shortly before the Berlin Wall was erected in 1961. It runs entirely on former West Berlin territory and is an important north-south axis bypassing the historic city centre. It is completely underground, and thanks to its straight alignment one of Berlin's fastest lines.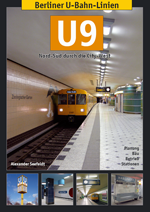 28-08-1961: Leopoldplatz - Spichernstraße
29-01-1971: Spichernstraße - Walther-Schreiber-Platz
30-09-1974: Walther-Schreiber-Platz - Rathaus Steglitz
30-04-1976: Leopoldplatz - Osloer Straße
---
Alexander Seefeldt: Berliner U-Bahn-Linien - U9 Nord-Süd durch die City-West.
- Juni 2011, ISBN 978 3 836573 30 5 More info