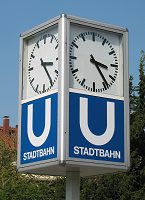 Dortmund has 593,000 inhabitants and lies at the eastern edge of the large Rhine-Ruhr conurbation integrated in the VRR tariff system (Verkehrverbund Rhein Ruhr).
The general Rhein-Ruhr Stadtbahn network designed in the early 1970's included three routes for the Dortmund area. Route 1 runs from northwest to southeast and route 2 from northeast to southwest. These two routes are directly linked at Westfalenhallen, from where U46 trains continue their journey on line U45 to Hauptbahnhof and vice versa. Until 1999, on U45 older single unit trams were still used between Brambauer and Stadthaus, so in some stations a low platform section could still be seen, which have now been raised. On 16 Nov. 1999, 90 cm high platforms were brought into service on the route between Fredenbaum and Brechten, the remaining section to Brambauer was also adapted to Stadtbahn-standard and reopened on 6 Jan 2002. The only low-floor platforms can be seen on the eastern U47 to Aplerbeck.
The combinded line U45/U46 is totally underground, and line U49 runs totally segregated from road traffic, except for one level crossing just east of its peak-only Hafen terminus. Line U42 has its own right-of-way, though with level crossings, from Grevel to Hombruch, except for a short street-running section between Harkortstraße and Hombruch-Hallenbad. Between Franz-Zimmer-Siedlung and Grevel (7 stops), U42 has been operating mostly elevated as a fast tram since 1976. Some stretches on U47 between Allerstraße and Aplerbeck and on U49 between Brechten and Brambauer are single-track.
The third trunk route was eventually brought into service in 2008, but being served by low-floor trams - see below.
The Stadtbahn network has a total length of 55 km (17.5 km underground, 37.5 km above ground) with 23 underground stations and 59 surface stops.