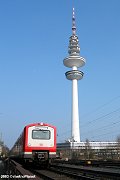 The U-Bahn is complemented by a dense S-Bahn service operating like a metro in central areas. Like the Berlin S-Bahn, Hamburg's S-Bahn is totally independent from other rail traffic and uses third rail power supply. The network consists of two inner-city links between the two mainline railway stations, Hamburg Hauptbahnhof and Hamburg-Altona and five branches.
The original surface link (Verbindungsbahn) via Dammtor was already opened in 1866, the route was put on an embankment by 1906 and two separate tracks for local traffic were added. In 1907, electric service (with overhead power supply, 6300 V ac) began between Blankenese and Ohlsdorf (now S11 route). From 1939 until 1955, the suburban lines were changed to third rail power supply (1200 V dc). From 1924 electric trains have been running to Poppelbüttel and from 1954 along the mainly single-track line to Wedel. Trains to/from Wedel need to change direction at Blankenese.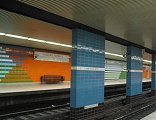 The S-Bahn network was expanded after World War II along the mainline to Berlin. After the division of Germany, this route lost its former importance and in 1958 the line was electrified for S-Bahn service as far as Bergedorf. It was extended to Aumühle in 1969 (now S2 route). In the early 1990's separate tracks were added for the re-established line to Berlin.
The first section of the northwestern branch to Pinneberg (now S3 route) opened in 1962 as far as Langenfelde. The S-Bahn eventually reached Pinneberg in 1967. The S-Bahn route across the Elbe River had been planned for a long time, but it took until 1983 until the southern district of Harburg was linked to the city centre. The current S3 terminus Neugraben was reached in 1984. This section includes 3 underground stations.
The most important piece of the network is, however, the so-called City S-Bahn, and underground link between the Hauptbahnhof and Altona. Construction began in 1967 and the first section Hauptbahnhof - Landungsbrücken was opened in 1975, including the complex underwater station at Jungfernstieg built at the same time as the U2 station. In 1979, the cross-city tunnel was finished, the link between Altona and Diebsteich followed in 1981.
During normal daytime service there are 4 S-Bahn lines running every 10 minutes, S1 and S3 via the city tunnel, and S21 and S31 via Dammtor. During rush hours S2 and S11 offer extra trains. On the partly single-track sections Wedel - Blankenese and Bergedorf - Aumühle trains run every 20 minutes.
The Hamburg S-Bahn system, which is operated on exclusive tracks and with third-rail dc power supply, has a total length of 113km (8km single-track, 13km underground) with 61 stations, of which 10 are underground, plus 31.9km shared with other trains and with overhead power supply between Neugraben and Stade:

S1: Wedel - Blankenese - Altona - Landungsbrücken - Hauptbahnhof - Barmbek - Ohlsdorf - Poppenbüttel (41.5km)
S11 (rush hours only): Blankenese - Altona - Dammtor - Hauptbahnhof - Ohlsdorf ( - Poppenbüttel)
S21: (Pinneberg) - Elbgaustraße - Dammtor - Hbf - Bergedorf - Aumühle (44.2km)
S2 (rush hours only): Altona - Landungsbrücken - Hbf - Bergedorf
S3: Pinneberg - Altona - Landungsbrücken - Hbf - Harburg - Neugraben (43.5km)
S31: Altona - Dammtor - Hbf - Harburg Rathaus (- Neugraben)
In order to expand the S-Bahn (S3) from Neugraben west to Buxtehude and Stade, dual-system trains (third-rail/dc and catenary/ac) started service on the 32 km route in Dec 2007, sharing tracks with other DB services. During off-peak hours, S-Bahn line S3 runs through to Stade only hourly, and every 20 minutes during peak hours.
A 3 km, mostly underground S-Bahn branch from Ohlsdorf was finally completed in Dec. 2008 to link the city centre to the airport. Line S1 trains are divided at Ohlsdorf with the front section continuing to the airport, and the rear to Poppenbüttel.
S-Bahn History

01-10-1907: S1 Blankenese - Ohlsdorf
04-10-1959: S2/S21 Berliner Tor - Bergedorf
22-02-1962: S3/S21 Holstenstraße - Langenfelde
30-05-1975: S1/S3 Hauptbahnhof - Landungsbrücken "City S-Bahn"
25-09-1983: S3/S31 Hauptbahnhof - Harburg Rathaus
09-12-2007: S3 Neugraben - Stade
12-12-2008: S1 Ohlsdorf - Hamburg Airport (Flughafen)
15-12-2019: + Elbbrücken
31-05-2023: + Ottensen