Marseille is the largest city in southeastern France (870,000 inhabitants, 1.6 million in the metropolitan area). It is an important harbour by the Mediterranean Sea.
The metro network consists of two rubber-tyred lines (pneu - like Lyon and some Paris lines), with a total length of 21.8 km (18.1 underground):
Stations usually have a very functional design, some are decorated thematically (for example, St. Charles - Railway Station shows a TGV high speed train on one side and a 19th century steam train on the other; Noailles shows old model trains, trams and trolleybuses; Notre-Dame du Mont has huge vegetables painted on the walls showing the way to the nearby market).
There are two transfer stations - at Castellane both lines cross perpendicularly with a short walk and an escalator between Lines 1 and 2. Saint-Charles (Central railway station) appears to be of the cross-platform interchange type, but there is an island platform for Line 1 on the inner tracks, and two side platforms for Line 2 on the outer tracks, which means that passengers have to run up and down the stairs in any of the possible transfer options! Apart from this inconvenience stations have no lifts, although some stations have escalators.
Information panels are good and easy to read. On the trains, stations are not announced, neither acoustically nor on a panel. There is an arrow showing which side to get off, but usually it's not illuminated before the train gets into the station.

12.9 km, 18 stations
- From a point halfway between Saint Just and Malpassé to Frais Vallon the line runs in the middle of a highway, after a short tunnel it continues on a viaduct to the terminus at La Rose. The rest of the line is underground.
22-11-1977: La Rose - Saint-Charles (6.3 km)
11-03-1978: Saint-Charles - Castellane (3 km)
05-09-1992: Castellane - La Timone (1.1 km)
06-05-2010: La Timone - La Fourragère (2.5 km)
9.8 km, 13 stations
- This line runs on the surface at both ends, with the rest being underground.
03-03-1984: Castellane - Joliette (3.3 km)
01-02-1986: Castellane - Sainte-Margarite Dromel
14-02-1987: Joliette - Bougainville (5.6 km)
16-12-2019: Bougainville - Gèze (0.9 km)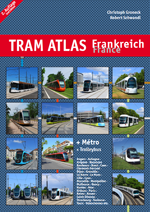 Marseille was one of only a few French cities to maintain part of its former tram network, a single line which was shown on metro maps as line 68, a standard tram running in a tunnel only from its terminus 'Noailles' (transfer to métro) to its first stop 'Bruys' (now Eugène Pierre) on Bd. Chave. It was closed in December 2003 to be integrated into the future tram line T1 to La Blancarde and Les Caillols. The new tram has opened in stages since 2007. A third line was added on 30 May 2015, sharing the northern part with line 2 and serving a new 1.2 km section through the city centre along Rue de Rome.
- 12.7 km
- 3 lines
- 31 stops
- 1435 mm gauge
- rolling stock: Bombardier Flexity Outlook type C
NEW: Tram Atlas Frankreich | France (2nd edition, 2022)
This revised edition of our bilingual (German/English) and illustrated atlas includes all tramway and trolleybus cities in France, plus all the Métro and VAL systems. Each city features a detailled system map, some with an enlarged city centre area, showing all stops, loops, single-track section, depots etc. Short texts provide information about special features, while details about history and operation are presented in tables. All current vehicles are depicted in one of the numerous colour photographs.
Angers, Aubagne, Avignon, Besançon, Bordeaux, Brest, Caen, Clermont-Ferrand, Dijon, Grenoble, Le Havre, Le Mans, Lille, Lyon, Marseille, Montpellier, Mulhouse, Nancy, Nantes, Nice, Orléans, Paris, Reims, Rouen, Saint-Étienne, Strasbourg, Toulouse, Tours, Valenciennes
160 pages, 17x24 cm, approx. 300 colour images, network maps, text Deutsch/English
Feb. 2022 - ISBN 978 3 936573 66 4, EUR 19.50
More info here!