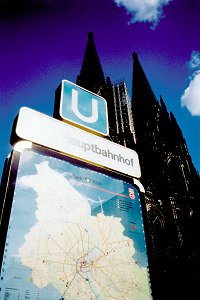 With just over a million inhabitants, Cologne (Köln) is Germany's fourth largest city. In the 1960s, Köln decided to build an underground tram system (like Stuttgart or Hanover) instead of a full metro (like Nuremberg or Munich). The first underground stretch opened in 1968. Most tunnel sections in the city centre were built until 1974, and in the 1980s and 1990s the tunnel network was gradually expanded. Currently the system includes some 50 km of metro-like routes, either underground, elevated (L13) or at grade. This is complemented by 45 km of conventional railway lines (Lines 16 and 18 to Bonn) and 94 km of tram-like routes. The total length of the network is approx. 195 km (2016).
The system is a true network with many lines sharing certain stretches. In 1994 it was decided that the east-west lines shown in red on the map will not be converted to Stadtbahn operation with high-floor vehicles. Instead new low-floor trams were acquired which offer the same accessibility (35 cm). From Dec. 2003, also the "ring lines" (shown in green) were added to the low-floor network, whereas all other lines will eventually be converted to Stadtbahn lines similar to the networks in Stuttgart or Frankfurt with high platforms (90 cm) and tracks mainly on a separate right-of-way when running at grade.
In Aug. 2007, the line layout was simplified, with several line numbers (6, 8, 17, 19) having disappeared.
A new line 17 was introduced in Dec. 2015, when the southern part of the north-south tunnel was brought into service. This new cross-city route from Breslauer Platz/Hauptbahnhof to Bonner Wall (3.9 km) has been delayed by many years following the collapse of the tunnel and the city's Archives on 3 March 2009. The north-south tunnel was mostly excavated by tunnel-boring machines, with some stations being of the tube-type. South of Bonner Wall, a surface route will eventually continue to Arnoldshöhe, whereas line 17 rejoins the existing alignment along the River Rhine. The missing gap between Severinstraße and Heumarkt might not be opening until the mid-2020s.
For Bonn click here.
Cologne Photo Galleries: High-floor network | Nord-Süd-Stadtbahn | Low-floor network